What We Do
To learn more about the Kiwanis Club of Tweed, check out our brochure, or read more below about:
Accessible Playground Project
Support for Activities, Programs & Organizations
Community Events
Fundraising
Tweed Kiwanis Pavilion
Our Work with Local Schools
Accessible Playground Project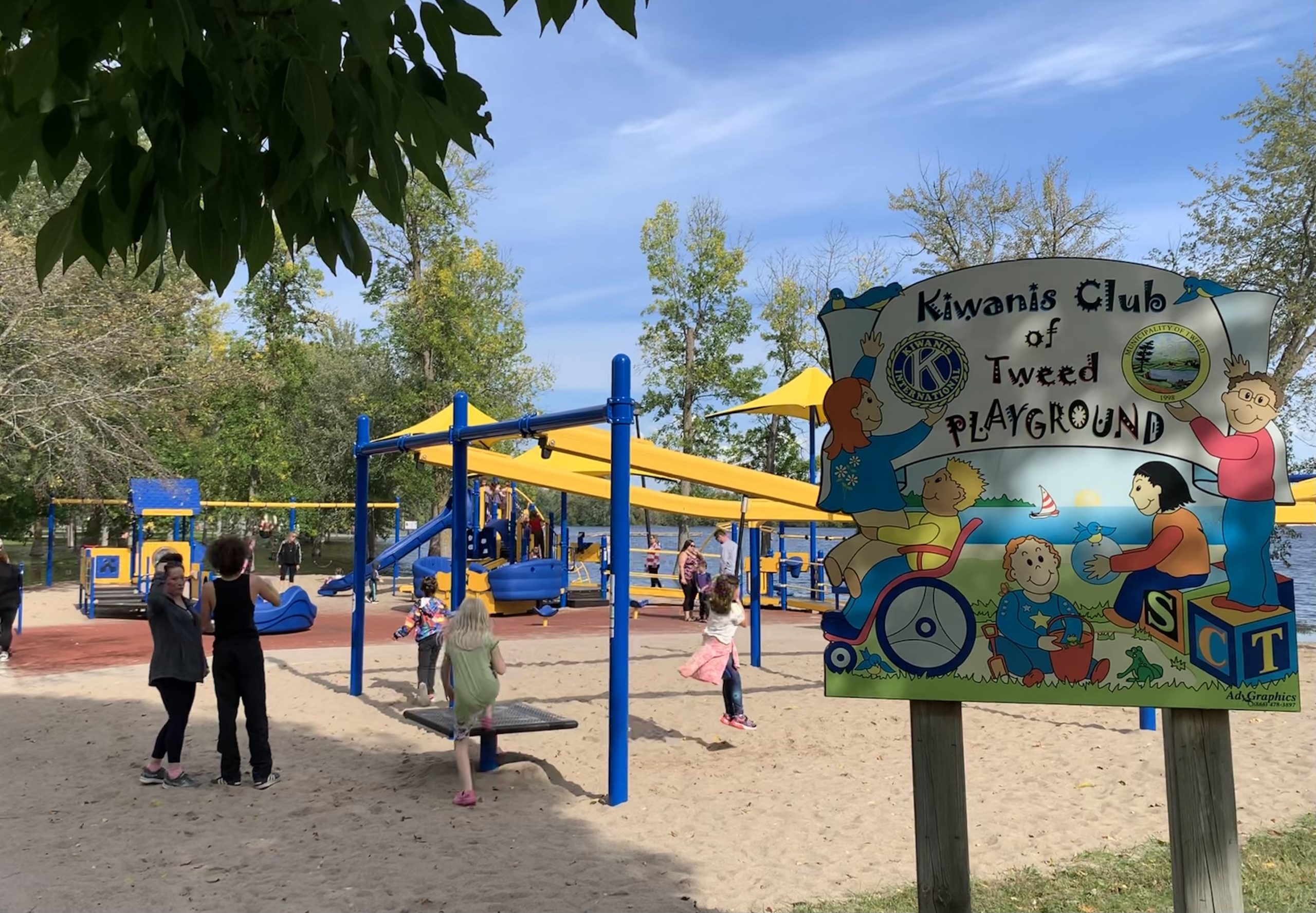 September, 2021- The Accessible Playground Project opened September 3 at Memorial Park and is now ready for play! We are now looking at adding finishing touches like benches and additional landscaping.
In 2019, the Kiwanis Club of Tweed and the Municipality of Tweed partnered on a significant initiative to upgrade and add new equipment to the Kiwanis playground in Memorial Park – the Accessible Playground Project. We were thrilled to announce that on March 31, 2021 we received funding from the governments of Canada and Ontario under the Canada Infrastructure Program. Infrastructure Canada provided $169,581, and Ontario's Ministry of Infrastructure committed an additional $141,176 for the Project. A total of $310,757 in government funding for the Project!
Fund raising began in late November 2019, and by March 2021 our community had raised $96,742 for the Project. With a total of $407,499 in hand for the Accessible Playground Project, site preparation and construction began in June following removal of the existing playground equipment.
A sincere thank you to all of the community donors, the governments of Canada and Ontario, and to the Playground Committee (with representatives from the Kiwanis Club of Tweed and the Municipality of Tweed) that have made the Accessible Playground Project a reality!
The Playground includes a variety of equipment that specializes in engaging sensory, motor, cognitive and social skills: a spinner, swings, panels, slides, ladders and a zipline specifically designed to include those using wheelchairs or other mobility aids. The Project has improved general playground equipment, and rubber surfaces have been used in various locations within the playground. All children will have the opportunity to play and enjoy the Playground in the heart of the Village.
While this special project was underway, the Kiwanis Club of Tweed continued to fund other community initiatives. All businesses, organizations and individuals who make donations will be acknowledged on signage (in preparation) at the playground, and receive a tax receipt for contributions over $10. To learn more about the project or to donate, take a look at this fact sheet, or contact the Municipality of Tweed, 255 Metcalf St., Postal Bag 729, Tweed, ON K0K 3J0, 613.478.2535
Support for Activities, Programs & Organizations
Tweed Kiwanis supports many community activities, programs and organizations – with a special emphasis on children and youth. We are proud to donate our time and resources to initiatives that promote literacy/education, the arts (theatre, music, Art in the Park), sports and recreation (including the new disc golf course at the Tweed Recreation Area), and building youth leadership capacity. We also contribute to the soccer pitch, Emily Trudeau Splash Pad, the Tweed Library, the Madoc Army Cadets, and the Tweed Memorial Park Children's Playground. We actively support several regional groups and activities. Learn more here!
Community Events
In addition to donating funds to many local children's programs, our Kiwanis club offers or participates in the following community events:
Community Pancake Breakfast & Bake Sale (Tweed Winter Carnival)
Trash Bash
Canada Day Parade
Chicken BBQ
Annual Alzheimer's Walk
Christmas Parade
Fundraising
Our club raises funds from the generosity of those who live in our community and their friends. We undertake these fundraising activities:
Community Lottery
Chicken Barbecue
Community Pancake Breakfast & Bake Sale
Nevada Tickets
Bonspiel
Pavilion rentals for family and organization events and theatrical productions
Funds raised are put back into the local community and other organizations that embrace the ideals of Kiwanis.
Tweed Kiwanis Pavilion
The Kiwanis Club of Tweed maintains the historic Pavilion on Stoco Lake in Tweed Memorial Park. Since 1929, the Pavilion has hosted many family / community events, including our annual chicken BBQ. Learn more about this wonderful community venue in this brochure. Rentals are managed by the Municipality of Tweed. 613-478-2535. Visit www.tweed.ca.
Our Work with Local Schools
Our Kiwanis club recognizes and encourages kids, through example, so they feel empowered to do great things in their communities. We support Builders Clubs, Kiwanis 'Terrific Kids' and 'Bring Up Grades' (BUG) programs at our two local schools. We also make donations to their literacy programs.